Affordable Care Act: Employer Mandate Delayed, but Other 2013 Requirements Remain
Employers still have new ACA obligations in 2013
The US Treasury Department announced a change to the Affordable Care Act timeline that all US employers should understand. The deadline for compliance with the employer mandate has been postponed for one year. The ACA provision for large employers (50 or more employees as defined by the ACA) to offer qualifying health coverage to employees, or pay a penalty, has been delayed for one year from January 1, 2014, until January 1, 2015.
In addition, the requirement for employers to report information to the IRS about the health coverage they offer was delayed until the 2015 tax year. Now, reporting health coverage information will be voluntary when businesses file their 2014 tax return.
Many provisions of the ACA will continue to be implemented this year including:
The individual mandate, which is the requirement for an individual to obtain qualifying health coverage or pay a penalty.
Exchange Notices are required to be provided to all employees by October 1, 2013 and to all new employees within 14 days of employment. This requirement is for ALL employers covered by the FLSA (which is almost all employers), even small ones. So even though a company may be under 50 employees, they still must notify employees about the ACA provisions. Employers must provide a notice to all full-time and part-time employees, regardless of whether the employee is enrolled in an employer-sponsored medical plan. Employers must provide this notice even if they do not offer any health coverage to employees
The maximum waiting period for an employee to become effective in health coverage is 90 days. For example, a waiting period of "first of the month following 90 days of employment" is no longer permitted.
The Health Insurance Marketplace (Federal/State Exchanges) becomes available with open enrollment beginning 10/01/2013 for an effective date of coverage in 2014.
Insurance companies cannot implement coverage restrictions based on pre-existing conditions. Modified community rating standards go into effect for individual or family coverage based on geography, age and smoking status, insurers must offer coverage to anyone, limitation on out-of-pocket cost-sharing, and small group and individual market insurance plans must include government defined essential health benefits and multiple coverage levels.
How to notify your employees about the Health Insurance Exchange Options under the Affordable Care Act
Talk to Your PEO
The politics of the ACA are heated in the US Congress and the rules and the impacts of the ACA are being questioned daily. If you are a client of a Professional Employer Organization (PEO) you should have regular discussions regarding the impact of the ACA on your business and your employees.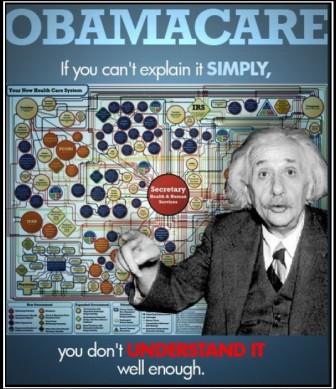 image courtesy of politifake.org