According to a press release on December 21, 2015 Oasis Outsourcing has acquired the PEO business of Doherty Employer Services.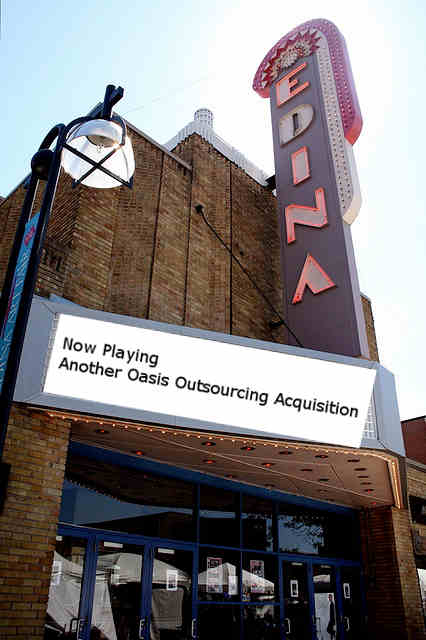 Oasis Outsourcing on a buying spree
Just one week after announcing the acquisition of Tampa, Florida based A-1 HR, Oasis Outsourcing has disclosed yet another acquisition, this time acquiring Doherty Employer Services in Edina, Minnesota, – the Twin Cities marketplace. In December 2014 Oasis was acquired by Stone Point Capital, a private equity firm in Greenwich, Connecticut. According the Stone Point Capital website, they have $13 billion of capital available for investments in the financial services industry.
Doherty remains in the staffing business
Like some employer service firms Doherty had separate divisions. One division for clients who had joined their Professional Employer Organization and another for clients seeking a workforce staffing solution. According to an article in the Minneapolis/St. Paul business journal, The Doherty family has retained the ownership of Doherty Staffing Solutions and only the PEO portion of their business (Dohertry Employer Services) has been sold to Oasis Outsourcing. In 2015 Doherty Employment Group (the combined staffing and PEO entity) claimed revenue of $487M and was listed as the second largest woman owned business in Minnesota. Editors Note: Since that number represents total gross wages and taxes paid by the employer services firm and then billed back to the client, those revenues often appear inflated since pass-through charges get treated as "revenue".
Tim Doherty's exit from the PEO industry is interesting due to his long involvement with NAPEO, previously serving as a NAPEO board member and national president of NAPEO. He was also the  recipient of a key industry award in 2009. Mr. Doherty was also a key influence in creating the regulatory framework for ESAC (the Employer Services Assurance Corporation) which vets the financial integrity of its PEO member companies. It looks they made the Doherty's an offer to good to refuse.
What about current Doherty Employer Services clients?
Since both Oasis Outsourcing and Doherty Employer Services are private companies, as usual the terms of the acquisition weren't disclosed.  For current clients of Doherty, the usual assurances are being made about how much better it will be for clients and how there will be no disruptions in the services Doherty clients are receiving. Affected clients should review the StaffMarket guide titled "My PEO was just sold – Now what?".