On June 29, 2015 the Society for Human Resources Management released their survey of the types of employee benefit plans being offered by employers. The study itemizes many different employee benefits and tracks the change in the number of employers offering or planning to offer many types of employee benefits plans from dental insurance (96%) to on-site nap rooms (2%) .
Company size not considered in the report
The Society of Human Resources Management (SHRM) has a membership comprised of companies with employees who are full time Human Resources Professionals. This is the audience they surveyed for their report. Since only fairly large companies have one or more full time HR professionals, (who potentially be a member of SHRM) it seems this study is by definition skewed to reflect the situation at mostly large employers. By the SHRM's own definition, 96% of all companies in the United States have less than 50 employees. How many of those sized companies responded and were included in this survey? That was not explained in the report. Nevertheless the study does reveal some interesting information for employers:
Changes due to ACA
"Aside from determining the various effects of federal health care reform, as well as its impact on the types of plans provided to employees, HR professionals are at the center of their organizations' regulatory compliance with the ACA. Starting in 2016, for example, small businesses with 50 to 99 full-time employees will need to start insuring those workers or be subject to penalties. Although businesses with fewer than 50 employees are not affected by this rule—and they represent 96% of all companies in the United States, HR professionals in the "50-to-99" category will need to weigh the costs of providing coverage and what types of plans to offer, or decide whether to forgo coverage and pay the federal penalties. SHRM research has shown that for many HR professionals, the complexity of the ACA is a major barrier to its implementation, and as a result, many have consulted their organizations' legal counsel and sent HR staff to classes/training on the law."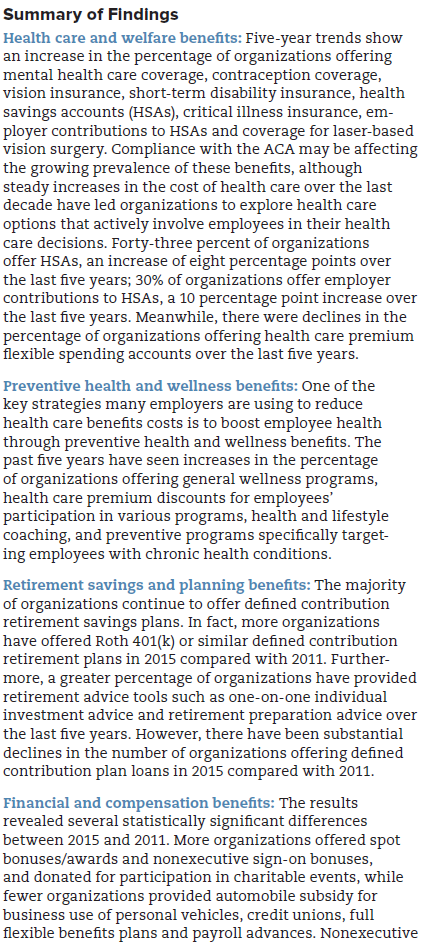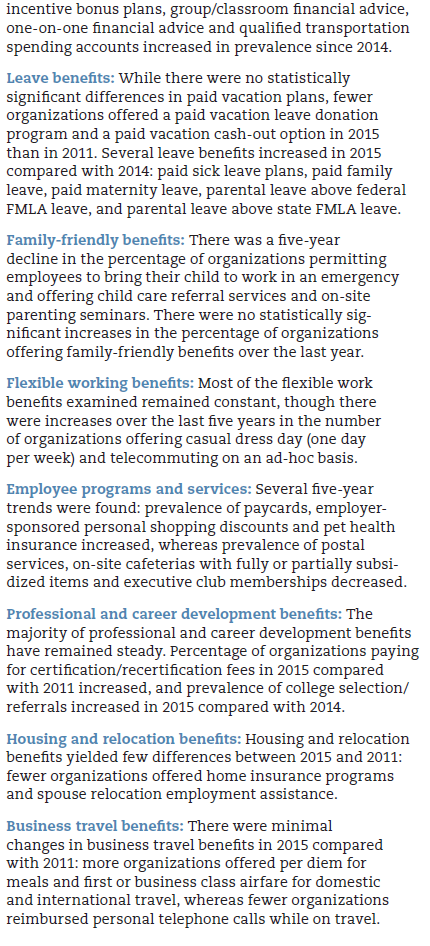 Based on this information, companies with less than 100 employees need to supplement the expertise of their HR staff.  Joining a Professional Employer Organization engages HR experts who can assist a company navigate these complexities.
Go here to review the full 2015 SHRM Employee Benefits Report.