Workforce Development Programs gain traction as the demand for skilled workers increases.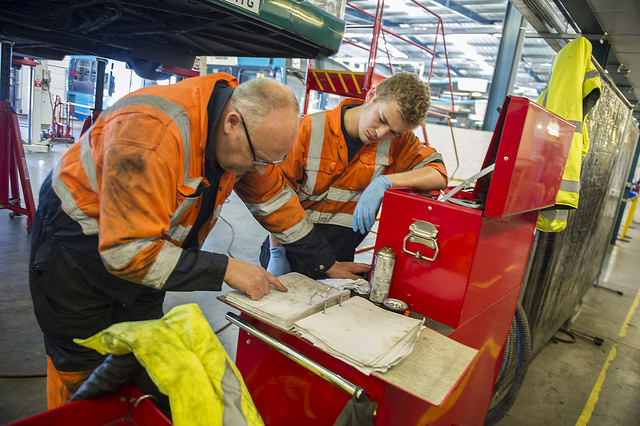 A recent article in the Greensburg, Indiana Daily News covered how the nation's top casket maker, Hillenbrand of Batesville, Indiana is having trouble finding skilled employees.
Hillenbrand CEO Joe Raver went with other members of the Indiana Manufacturers Association to the Indiana State House to urge the Indiana legislature to make careers in manufacturing more accessible to high school students. In Indiana the state Department of Workforce Development offers $2,500 to qualifying companies for each new employee needing training. According to the article Hillenbrand also has created a cooperative program for high school students where they can get a feel for the workplace and also earn college credits.
So what should companies do to improve the skills of talent pool in their areas?
In America, the educational premise via compulsory education is that all persons should be provided with a basic foundation of skills that includes reading, writing and basic mathematics. Beyond those basics, post-secondary education is the responsibility of the individual.
Indiana has a long legacy of being a center for manufacturing and manufacturing know how. How can it be that Indiana manufacturers are now complaining about the lack of those skills in the available workforce? One answer might be is that the last forty years of manufacturing flight to oversees locations (Mexico, China, etc.) has finally left Indiana with a dearth of manufacturing talent. All those tool and die makers and machinists and CNC operators who worked for Guide (GM) or Delco (GM) in Anderson have been gone for decades and now are retired or dead. Same goes for Chrysler in New Castle or Borg Warner and GM transmissions in Muncie or GM in Marion. And those are just the big names; each of those companies had a galaxy of smaller contractors with manufacturing skills as well and many of them are gone too. Looking back and blaming poor corporate management decisions, or bad trade policies or militant unions is an exercise for historians now. What's done is done. So how can Indiana regain those lost skills in the workforce? That is the question the Indiana Manufacturers Association seeks to address. According to the association president Brian Burton: "Without a change in our workforce system in Indiana we expect that we will not be able to fill 60 percent of the open positions that will occur over the next decade". So what is a manufacturing company to do? So when you are hungry and you cannot find any food available in the neighborhood, you may need to grow you own garden. In other words if a company wants to hire workers and the available talent pool does not have the needed skills…. then how about doing your own training?
So whatever happened to work apprenticeships?
For employers, training an unskilled person means taking some risk. Some people will work out and others won't. In addition, while the person is learning the job, their productivity will be lower and therefore their salary cost to the company may not be recovered as quickly. In short, the company is making an investment in a worker. Like any investment, it might pay off or it might not. To mitigate that risk companies often offer the new workers a lower pay rate during the training period and that rate would increase once the training was completed. Another risk for companies is that after spending a significant amount on worker training, the worker would quit and take those newfound skills to another employer. To mitigate that risk, some companies would demand a time period commitment from the worker once the training period was completed. Employers considering creating an apprenticeship program should be aware of labor law that may present some challenging conflicts. A formal apprenticeship program needs to be registered with The US Department of Labor. Full guidance for employers from the Department of Labor is available here.
What about an Internship program?
Companies often consider offering an internship program that helps young workers get some idea about what it would be like to work there. Many times those interns later become valuable employees. Companies wanting to implement an internship program should be aware that the US Department of Labor has some explicit tests for companies considering an unpaid internship program.
What about Cooperative Education Programs?
In addition some companies are joining forces with college educators to create cooperate education programs "co-op" that combine classroom time with time at work, all while getting paid.  Drexel University in Philadelphia, PA has been a leader in promoting university level co-op programs.
Getting Expert HR assistance
Employers considering any of these options may want to consult with a Professional Employer Organization (PEO) who can provide important guidance on establishing a workforce development program that ensures all employment related regulations are being met and help your company build the best workforce possible
Photo courtesy of Institute for Apprenticeships at Flickr