Finding the best PEO really means finding the one that best meets your company's specific needs.
Why join a Professional Employer Organization (PEO)
Whether you are starting a new company in 2019 or are the owner or manager of an ongoing enterprise, one of the biggest challenges is handling the workforce related obligations that come with being an employer. Regardless of the type of small business you are involved with responsibilities for payroll, insurances, taxes, employee benefits and regulatory compliance can be a big chore and it can create a real mess if you get it wrong.
Stay Focused, Follow the Rules and Be a Great Employer
Companies that join a PEO enjoy the risk shifting aspect that places responsibility for payroll, taxes and workers compensation insurance on the PEO. The PEO becomes the employer of record. In addition, many PEOs offer a suite of optional employee benefits that you can make available to your workforce. These may include group medical coverage, supplemental insurances like short term disability and 401K requirement programs.
Best PEO Services Lists are just click-bait
If you were searching for "Best PEO services" you may have been served a link to a page that was constructed as click bait for a list of companies that paid to be on that list. Companies like TechRadar.com get paid to create clickbait advertising content but provide little insight about the Professional Employer Organization industry. PEOs paying a third party to be on their "Best PEO" list include ADP TotalSource, Paychex PEO, Engage PEO, Trinet and XcelHR PEO. While these are all fine companies the fastest way to make your companies PEO search easy is to use the StaffMarket RFP process. If you are looking for reviews from companies that are actual customers of a particular PEO, check out PEO reviews in our PEOs by state listings. In addition, our experienced staff of PEO experts are versed on all aspects of a PEO arrangement and can advise on any questions or concerns you may have about joining any PEO.
With nearly 1000 PEOs operating in the USA any website that claims to have a list of the "BEST PEOs" is just a running a two-bit marketing ploy. The reality is that finding the "Best PEO" really means finding the PEO that best meets your company's specific HR needs, is licensed and operates in states where you have workers, provides workers' compensation coverage for your type of work and does it for a reasonable price. PEOs come in all shapes and sizes and each has narrow boundaries of what they can do and who they can do it for.
How our process identifies your best PEO options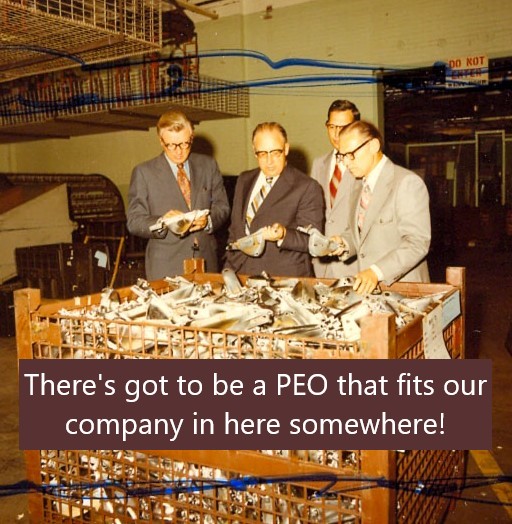 For 20 years StaffMarket has maintained the nation's largest data repository that tracks all aspects of PEOs operating in the USA. With this data, our system matches your company with the PEOs that are viable for your business. Our on-line matching process sifts hundreds of PEO options down to a viable "short-list" of best PEOs based on your specific needs. That'spart one. Part two is a competitive bidding process that assures your company gets a good price. Register to get PEO quotes to get the ball rolling.
Since 1999 over 25,000 companies have engaged us to make their PEO search easy. Contact StaffMarket and we'll find YOUR best PEO.